ASHP Has Again Been Named a Top Workplace by the Washington Post, Highlighting Our Exceptional Work Culture
Dear Colleagues,
Following the conclusion of a very successful in-person Summer Meetings & Exhibition earlier this week, I am delighted to share that ASHP has won the 2022 Washington Post Top Workplaces award, a recognition that highlights organizations in the greater Washington D.C. area that are leaders in employee satisfaction and engagement.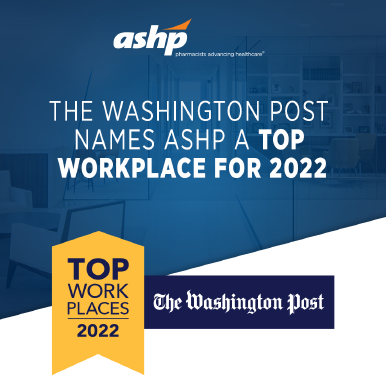 To highlight this achievement, the Washington Post recently partnered with ASHP to create this short video featuring many of our staff. I encourage you to watch as it highlights ASHP's exceptional work culture.
Now in its ninth year, the Washington Post's Top Workplaces list recognizes 200 Washington-area firms regarded by their employees to be the best places to work in the area. The Washington Post Top Workplaces award is based on employee feedback that was gathered through a survey issued by Energage.
Being named a 2022 Washington Post Top Workplace demonstrates that ASHP has outperformed others in a competitive and crowded marketplace. It also shows that ASHP puts forth a people-first culture that is valued by our staff. According to the Washington Post, past winners say the recognition has given them an advantage among job applicants in the highly competitive recruitment process and feedback to enhance employee satisfaction.
This honor adds to the growing list of awards ASHP has received, including:
As we approach the 80th anniversary of ASHP this August, we can all be proud of what ASHP has accomplished and stands for. Thank you for being a member of ASHP and for all you do for your patients and our profession.

Sincerely,
Paul
Posted on June 17, 2022